Whether you're going out to celebrate a special occasion, planning a night out on the town with friends, or simply getting out during the week, Fort Worth is packed with a variety of exciting places to dine. Here you can find a diverse array of cuisines, including everything from steak to seafood. We've pulled together some of the top Fort Worth dining experiences that are sure to satisfy your cravings. Read on to discover 12 Fort Worth restaurants and eateries you don't want to miss.
Eddie V's Prime Seafood
If you're looking to enjoy an upscale meal of seafood, then make reservations at Eddie V's Prime Seafood! Located in the heart of West 7th, this restaurant is a prime quality seafood restaurant that offers the finest fresh seafood and prime steaks. A glance through the menu reveals a diverse assortment of dishes, including raw oysters and Pacific ahi tuna—all of which are made from the freshest ingredients prepared with you in mind. To complement your meal, consider adding one of the hand-crafted cocktails, all poured with precision. There is also an extensive wine menu carefully curated by the restaurant's sommelier. For a comfortable yet intimate bar with exquisite drinks and appetizers, visit The V Lounge at the entrance of the 7th Street restaurant tonight.
Reata
Reata has been serving its legendary Texas cuisine since originally opening its doors in 1995. This spacious four-story location is spread over an expansive 20,000 feet and offers the perfect space for a wedding reception, birthday party, or business dinner. The menu features an exciting assortment of items, but some of the most popular items include their tenderloin tamales, blackened buffalo ribeye, chicken fried steak, stacked chicken enchiladas, and the all-time favorite pan-seared pepper-crusted tenderloin. Along with the upscale cowboy cooking, the sophisticated wine list offers the perfect accompaniment to classic cuisine. This wine list features offerings from California and across the world. Some of the most popular drinks include the Clear Fork cherry vodka limeade and the habanero lime margarita.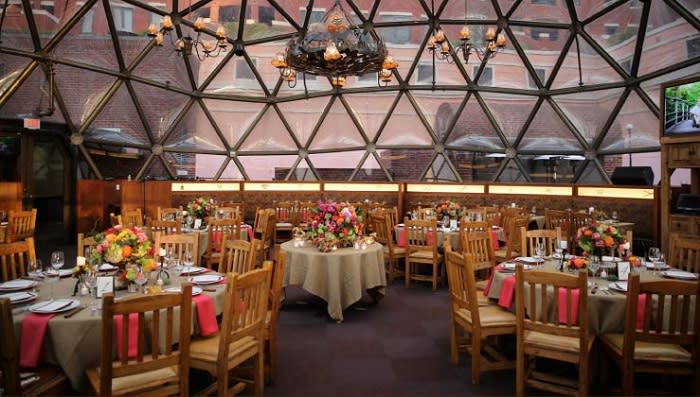 (Credit: Reata)
Saint-Emilion Restaurant
While traveling to Paris may not be in the cards at the moment, you can still experience decadent French cuisine at Saint-Emilion Restaurant. Originally established in 1985, this chic restaurant has been passionate about serving the best French food in the area. They offer a short, fixed-priced, three-course menu of classic bistro favorites. You can also add appetizers to share or desserts. To complement your meal, a reasonably priced wine list awaits you. Choose a wine from the ever-changing selection displayed on their farm table. Try different varieties by the glass and taste what you are not familiar with. Reservations fill up fast here, so be sure to book a table in advance!
Woodshed Smokehouse
Nothing says Texas like some good, old-fashioned barbecue. Lucky for you, you can experience all of that deliciousness at Woodshed Smokehouse. The casual and laid-back eatery is a homage to all things grilled, roasted, and slow-cooked. The menu features a daily rotating selection of beef, lamb, pork, cabrito, wild game, fish, and vegetables, all cooked over various woods and fire sources. Enjoy your meal in the dining room, in the bar, or on the patio that is nestled right on the banks of the Trinity River. Dogs are welcome in the gravel area, and there's even a special menu for your furry-four-legged best friends! To elevate your experience even further, consider coming on a night where there is live music. After all, what's better than enjoying a good meal with good music amongst good friends?
Texas de Brazil
It's hard to beat a perfectly prepared steak, but Texas de Brazil is in the business of making this dream a reality. This elite eatery features all-you-can-eat grilled meat carved tableside. All meats are cooked the gaucho way—over an open flame with natural wood charcoal. You can choose from slow-roasted and perfect seasoned cuts of meat, including beef, lamb, pork, chicken, and Bazilian sausage. The finest cuts of meat deserve the finest wines and spirits. To go along with your meal, pursue the award-winning collection of wines that are available. Sip a perfectly aged single malt scotch or indulge in a fine cognac. Or sample an after-dinner flight of port. If you're still craving a little something sweet after dinner, the mouthwatering dessert menu is sure to have something to satisfy your sweet tooth. Some of the most popular desserts include carrot cake, pecan pie, Brazilian flan, or Brazilian papaya cream.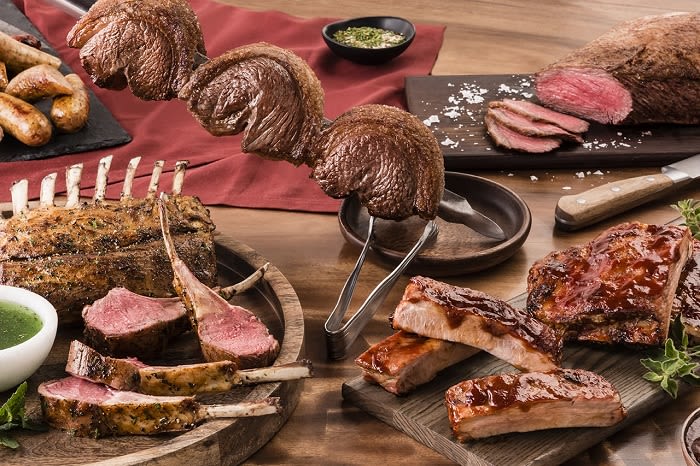 (Credit: Texas de Brazil)
Spiral Diner & Bakery
If you're looking to experience vegan comfort food, then head on over to Spiral Diner & Bakery! This vegan restaurant was opened in 2002 and, since then, has expanded into three locations throughout Texas. This eatery offers creative and organic-leaning vegan fare in a funky, retro-themed environment. The menu features all sorts of staple comfort food, from mac n' cheese (vegan, of course) to burgers. When ordering a burger, you have a choice between a classic soy burger, cashew-quinoa, or a beyond burger. The limited-time burgers are also worth exploring. Right now, you can try a burger made with ghost pepper jam or peanut butter and jelly burger—a salt, sweet, and savory experience. The bakery features a variety of classic American sweets, from apple pie to snickerdoodle cookies. Regardless of what you choose, you'll be impressed with the high-quality and delicious food found here.
Ellerbe Fine Foods
Located along Magnolia Avenue in Fort Worth's Near Southside neighborhood, Ellerbe Fine Foods is famous for its Southern-style American fare. This elegant restaurant comes with some fantastic accolades, including being named one of Bon Appetit's 10 Best New Restaurants in America. Their menu is centered on innovative, farm-to-table cuisine, highlighting the freshest local and seasonal ingredients. The menu frequently changes to ensure garden-fresh ingredients. To start your meal, consider ordering the Demases Farm beets or Wagyu pastrami tartine for appetizers. For entrées, try the braised rabbit pasta or the panéed Texas quail. Regardless of which dish you select, you'll be blown away by the high-quality and flavorful dishes. Plus, Ellerbe Fine Foods is sensitive to the needs of vegetarians, vegans, and those with other specific diets and restrictions. There is always a daily vegetarian special available, and the restaurant can accommodate most dietary concerns.
The Biscuit Bar
The Biscuit Bar is an approachable, casual restaurant serving Southern goodness on a biscuit. Open for breakfast, lunch, dinner, or late nights, this trendy eatery is ready to meet your every craving. Their menu features an assortment of savory and sweet biscuit sandwiches, all of which are expertly prepared from scratch, in-house, daily. Guests can also accompany their biscuit sandwich with tots styled to personal taste and tipple on a craft cocktail, locally sourced brew, cold brew coffee, or kombucha—all offered on tap!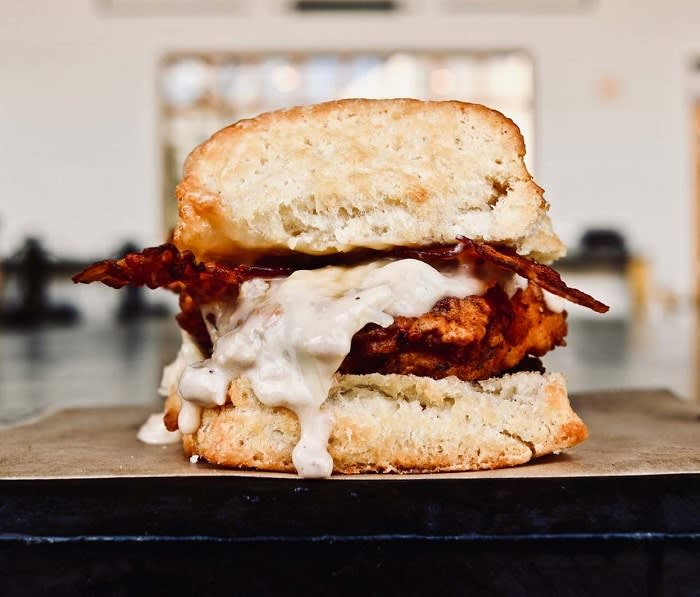 (Credit: The Biscuit Bar)
Joe T. Garcia's Mexican Restaurant
Joe T. Garcia's Mexican Restaurant has been a part of the Fort Worth community since first opening its doors in 1935. Founded by Mr. and Mrs. Garcia, the restaurant has remained in the family ever since. Since then, it has become one of the most popular restaurants in the Dallas-Fort Worth area and has grown in popularity and size. Even though the restaurant has expanded exponentially since its humble origins, the same style of cooking and original recipes are used. Likewise, it is the same determination and love for the business instilled by parents and grandparents that is evident in the younger generation. Whether you are craving chorizo y papas con huevos or beef fajitas, you can find that—and plenty more—here.
Velvet Taco
Velvet Taco is on a mission to deliver a fresh take on the ubiquitous taco. This one-of-a-kind taco concept serves premium food in a unique and funky fast-casual setting. Founded on the idea that tacos don't have to be associated with Tex-Mex cuisine and can be made with the same care and quality ingredients as fine dining, Velvet Taco is where "anything goes meets the art of the possible." The result is over 20 different varieties of tacos, featuring globe-trotting flavors and using in-house preparation methods. Velvet Taco is all about quality, from using the freshest ingredients available to slow-roasting their chicken and corn and making the tortillas from scratch. The result is a taco unlike any other you have experienced.

If you want to explore Fort Worth real estate, contact John Zimmerman today. Whether you're looking for a short-term rental or a forever home, John can walk you through the process from start to finish and help you find a place that's right for you. With years of experience in the real estate industry and as one of the top Fort Worth Texa real estate agents, Travis and his team can help you find a house that truly feels like home.